04/08/2020
Posted by:

HQTS

Category:

Uncategorized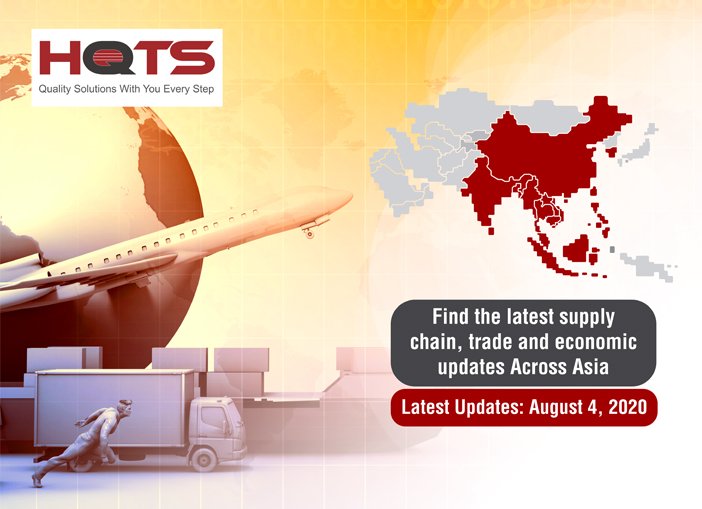 With a wide range of service locations across Asia, HQTS has collected important supply chain and trade-related information to help you fully understand the current situation affecting your business.
China
Just as China thought it was coronavirus-free, over 150 new cases have been reported in just a few days, including 102 domestically-transmitted infections. Investigations show that the latest outbreak could have started in one of Kaiyang's seafood processing workshops, where a total of 60 people were infected.
As part of easing restrictions, Beijing has allowed its buses and subways to operate at full capacity and bars, restaurants, gyms and public spaces are open and operating as normal in all other cities in China.
Bangladesh
Restriction policies on traveling, logistics and business operations:
The number of confirmed COVID-19 cases in Bangladesh reached 221,178 last week as about 2,500 new cases were reported. The country's state medical research agency has approved a third-phase trial of a potential vaccine developed by China's Sinovac Biotech, as its infections continue to rise.
Financial and trading policies:
It's thought that COVID-19 losses for Bangladesh's economy could have reached between US$9bn-21bn in 2020. However, the country could offset by earning an additional $25bn by exporting products to the Chinese market alone.
Bangladesh's remittances could fall by 27.8% this year as job losses are mounting and employers are trimming payrolls.
As per Bangladesh Bank data, remittance inflow hit a new record of $18.20bn in this financial year. Although COVID-19 decreased most of the global economy, the remittance reached a new height of $1.83bn in June.
India
Restriction policies on traveling, logistics and business operation:
India is on day 133 of lockdown as its cases continue to rise each day and the West Bengal government has extended its rules for the second time in the state to help control the spread of COVID-19.
The 74th Independence Day celebrations will be subdued this year in Sikkim due to the outbreak. However, all shops in Mumbai are due to open tomorrow (August 5) between 9am-7pm with strict social distancing rules in place.
Financial and trading policies:
Kerala's remittance-driven economy that has taken a severe beating since the coronavirus outbreak is now showing fault lines on both job and financial fronts.
Virtually all economic activity including logistics, manufacturing, public transport, and most healthcare has come to a near total standstill. Around 140 million vulnerable workers have seen their earnings fall.
However, Indian telcos reported strong revenue and growth in the three months ending June 2020, boosted by tariff growth and higher data usage. They are likely to handle the coronavirus slowdown as it is forecasted the industry mobile sector will grow by 25-30%.
Vietnam
Restriction policies on traveling, logistics and business operation:
Vietnam has recorded its first fatalities due to coronavirus after reporting no deaths for months. However, the country with a population of around 95 million continues to control the virus with only 620 cases since the pandemic began.
Bars and pubs in Vietnam were ordered to close until further notice starting July 31, 2020. City events have also been suspended.
Financial and trading policies:
The country's GDP is still growing at 0.4% during the second quarter of 2020, which is very positive. However, it is the worst performance recorded over the past 35 years.
Authorities estimate that over 30 million Vietnamese workers were affected at the height of lockdown during the month of April. The Ministry of Labour also reported that urban unemployment rose by 33% during the second quarter, while the average income per worker decreased by 5%.
Malaysia
Restriction policies on traveling, logistics, and business operations:
Malaysia's borders remain closed until August 31. Most public areas, shops, bars, and cinemas are open. Business owners and shopkeepers are relieved the government has lifted the interstate travel ban and allowed businesses to operate at full capacity.
Financial and trading policies:
Malaysia's central bank has cut its key interest rate for the fourth straight meeting to a record low as policymakers sought to support a budding recovery in Southeast Asia's third largest economy, which has been battered by the coronavirus pandemic.
Malaysia has secured a new grant to support SMEs in going digital, helping small businesses work from home sand therefore spend less time outside.
The Philippines
Restriction policies on traveling, logistics, and business operations:
The Philippines will reimpose a stricter coronavirus lockdown in and around the capital for two weeks, as the country struggles to contain infections that have jumped to more than 100,000 cases.
Under this stricter quarantine, a modified enhanced community quarantine, stay-home orders will be re-imposed and public transport, including air travel, will be stopped. Malls, except leisure shops and restaurants with take-out and delivery options, can open with half of their workforce. Barber shops, salons and gyms will remain closed.
Financial and trading policies:
The Philippines had a huge decrease in Asian stocks on Monday, declining as much as 3.9% and the quarterly growth data shows the economy has suffered a deeper contraction than the first quarter's 0.2% decline.
The Philippine economy had been one of Asia's fastest growing before the pandemic but is now on the brink of recession.
Singapore
Restriction policies on traveling, logistics, and business operations:
Singapore is still on a positive track; the daily new infections have fallen from April and lockdown measures are becoming more relaxed.
Dining inside restaurants is now allowed, gyms and cinemas have reopened, but groups are limited to a maximum of five. People are still required to remain one meter apart and households can't host more than five visitors at once.
Financial and trading policies:
Shares of Singapore's top three banks tumbled last week after the country's financial regulator asked lenders to cap dividends. Its economy is forecast to shrink by between 4% and 7% this year, which would be the country's worst recession since 1965.
Indonesia 
Restriction policies on traveling, logistics and business operation:
Indonesia's resort island, Bali, has reopened after a three-month virus lockdown, allowing locals and stranded foreign tourists to resume public activities before foreign arrivals resume in September.
The local government has begun lifting the limits but tourists will face stringent rules in hotels, restaurants and at beaches.
Financial and trading policies:
SMEs are considered the backbone of the Indonesian economy but now risk bankruptcy due to the ongoing coronavirus health crisis in the country.
Indonesia's loan growth slowed to 1.49% in June as efforts to contain the virus outbreak hit the economy according to the chairman of the Financial Services Authority. Signs of recovery were seen in July and Indonesia's government is placing 30 trillion rupiah ($2.05bn) in funds to distribute as cheap loans to support the economy.
Thailand
Restriction policies on traveling, logistics, and business operations:
After a three-month ban, Thailand reopened its borders on July 1 for select categories of residents and international travellers and it was announced today (August 4) that four more categories of foreigners will be allowed entry.
Hotels, restaurants, flea markets and tourist sites are reopening as they attempt to recover from the financial disaster caused by the closures imposed since March.
Financial and trading policies:
Vendors, daily wage earners and freelancers are losing their incomes and jobs daily and more than 800 Thai factory workers lost their jobs on July 31.
Thailand's exports are also expected to contract by nearly 10% this year to a level not seen since the global economic crisis of 2009. In the first half of 2020, the country's exports dropped by 7.1%.
Pakistan
Restriction policies on traveling, logistics, and business operations:
Pakistan has finally seen a decline in cases and the Punjab province has lifted lockdown measures amid a continued fall in numbers.
Financial and trading policies
The pandemic has also taken a devastating blow on the Pakistani economy. The country's exports primarily comprise of textile products and these are down since the COVID-19 crisis started, with some orders even being cancelled.
In 2018, Pakistan's GDP growth was around 5.8% and now stands at 0.98% with further decline likely.
About HQTS
With over 25 years of experience in quality assurance, HQTS is ready to help your business build meaningful and robust supplier relationships across Asia. Our many service locations are prepared to be your one-stop-shop for your inspection needs, including factory audits, production monitoring, pre-shipment and sorting inspections, and everything in between. This will allow you to know exactly what's happening on the ground and keep close tabs on your suppliers. Contact us today to find out how we can help you navigate current quality control challenges.
What kind of information do you want us to provide?