11/06/2020
Posted by:

Sanjay

Category:

Uncategorized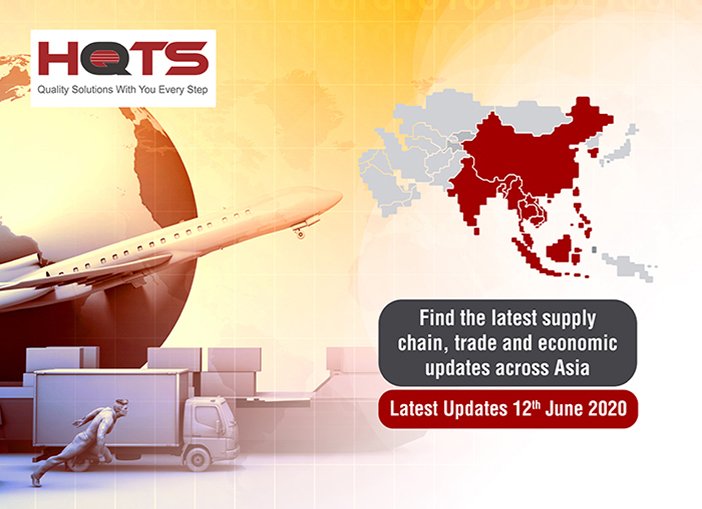 With a wide range of service locations across Asia, HQTS has collected important supply chain and trade related information to help you fully understand the current situation affecting your business.
China
The third session of the 13th National People's Congress (NPC) was held in Beijing on 22nd May, after being delayed two and half months due to COVID-19 concerns.  Chinese Premier Li Keqiang stressed in the meeting that the prevention and control of the coronavirus is put at the heart of the government's strategy for the year ahead. The focus will be on protecting employment, livelihoods, businesses and supply chains from collapsing.
According to China's Civil Aviation Administration, foreign airlines that were barred from China due to the earlier restriction will be allowed to resume operating one flight per week into China starting 8th June.
Bangladesh
Restriction policies on traveling, logistics and business operation:
Bangladesh lifted its coronavirus lockdown on 31st May, with offices, businesses and transport services resumed on a limited scale after being suspended for over two months following the COVID-19 outbreak.
Financial and trading policies:
Prime Minister Sheikh Hasina announced a new stimulus package on May 31 to waive 20 billion-taka ($236 million) bank interest of the people affected badly by the nationwide lockdown.
India
Restriction policies on traveling, logistics and business operation:
India is allowing most businesses and services to resume, and they have lifted most restrictions on movement of people and goods. The first "unlock" phase is set to run from 1-30 June, with most businesses and other workplaces reopened.
Domestic flights have resumed and the government is aiming to resume international flights later in June after another review of the pandemic situation.
Financial and trading policies:
India plans to allow hotels, restaurants, shopping malls and places of worship to reopen from 8th June, everywhere except for designated 'containment zones', which are the areas with a high number of COVID-19 cases. Therefore, the movement of people and services will continue to be severely restricted in these zones.
Vietnam
Restriction policies on traveling, logistics and business operation:
Vietnamese carriers resumed all domestic operations with national carrier Vietnam Airlines launching six new domestic routes. However, no date has been set to resume normal international operations. Vietnam's borders remain closed to foreign visitors due to the pandemic, but it plans to grant e-visa to citizens of 80 countries from 1st July 2020 as per Resolution No. 79/NQ-CP.
Financial and trading policies:
Vietnam is planning a US$679 million cut to corporate income tax for small and medium-sized businesses to combat COVID-19.
Vietnam's National Assembly ratified the EU Vietnam Free Trade Agreement (EVFTA) on 8th June. Following the approval, the deal could take effect as early as August. The FTA is expected to boost the country's manufacturing sector and exports as it recovers from the pandemic.
Malaysia
Restriction policies on traveling, logistics and business operation:
Malaysia has reopened nearly all economic activities and allowed interstate travel from 10th June, lifting the coronavirus restrictions that were imposed nearly three months ago. Malaysia hopes to revive their economy which has been heavily affected by the pandemic.
Financial and trading policies:
The government will ease restrictions on social, education and religious activities in phases with health guidelines in place and businesses will be allowed to return to normal operating hours. The government has encouraged domestic holidays as travel between states will be allowed, but international borders will still remain closed.
Malaysia's exports plunge 23.8% year-on-year to 64.92 billion ringgits (about $15.17 billion) in April amid the COVID-19 pandemic. The country's import volume also decreased by 8% to 68.42 billion ringgits and a trade deficit of 3.5 billion ringgits was recorded in April.
The Philippines
Restriction policies on traveling, logistics and business operation:
 Philippine authorities eased coronavirus lockdown restrictions in the capital Manila from 1st June, allowing a wide range of companies to operate in a bid to revive the pandemic-hit economy.
Philippine Airlines started providing limited international flights, to Japan, the United States, Canada, the United Arab Emirates, Saudi Arabia and China.
Financial and trading policies:
Gatherings of up to 10 people have been allowed, workplaces, shops and some public transportation services have reopened and movement in and out of Manila has been permitted.
Schools, universities, tourist destinations and dine-in restaurants will stay closed, while stay-at-home orders will remain for the elderly and children.
Singapore
Restriction policies on traveling, logistics and business operation:
Singapore has begun allowing activities that do not pose high risk of transmission to resume from 2nd June after two months of lockdown.
Singapore Airlines (SIA) and SilkAir are increasing the number of destinations in their network, as well as frequencies on some existing services in June and July and travellers are gradually be allowed to transit through Singapore's Changi Airport from 2nd June.
Financial and trading policies:
Businesses with lower transmission risks have resumed activities during the first phase, which include manufacturing and production facilities in the semiconductor, medical technology and aerospace sectors, as well as wholesale trade and finance companies.
School bookstores and retail shops selling school uniforms can also resume business in order to support the reopening of schools. All other retail outlets will remain closed until further notice apart from those that have already been given approval to operate.
Indonesia
Restriction policies on traveling, logistics and business operation:
Restrictions in Indonesia's capital were partly relaxed on 8th June, as the world's fourth most populous nation gradually reopens its economy, after two months of lockdown
Financial and trading policies:
Offices, restaurants and grocery stores reopened with only 50% of their employees and customers. Public transportation also resumed however, schools remain closed during this month's transition to the 'new normal', while some shopping centres, zoos and beaches will reopen next week.
Mosques and all other worship facilities were allowed to reopen at half capacity with social-distancing requirements in place.
Thailand
Restriction policies on traveling, logistics and business operation:
The government plans to completely lift the lockdown on all businesses and activities on 1st July, across the country. This includes lifting interprovincial travel restrictions as well as ending the emergency decree and curfew.
Financial and trading policies:
Any businesses or attractions with plans to prevent transmission may reopen ahead of schedule, which will effectively lead to a complete reopening of the country.
The DOH is collaborating with the relevant agencies to establishment guidelines for public health at tourist attractions and beaches. Tourists will be limited and spaced at an appropriate distance.
Pakistan
Restriction policies on traveling, logistics, and business operations
The total number of cases rose to 117,172 in Pakistan. World Health Organization said Pakistan does not meet any of the prerequisite conditions for opening and they have been asked to implement intermittent lockdowns to counter the surge of coronavirus cases. Pakistan's Prime Minister refused WHO suggestions and said that Pakistan cannot afford lockdown at this time and therefore, Pakistan has reopened shopping malls, retail Ssops and has resumed business activities and public transport.
Financial and trading policies
Asian Development Bank (ADB) approved $500 million emergency loan for Pakistan to help Pakistan deliver social protection programmes to the poor and vulnerable, expand health sector capabilities and offer a pro-poor fiscal stimulus to boost growth and create jobs as the country fights the coronavirus pandemic, the government also upward revises its external loans estimates to $14 billion for the outgoing fiscal year.
About HQTS
With over 25 years of experience in quality assurance, HQTS is ready to help your business build meaningful and robust supplier relationships across Asia. Our many service locations are prepared to be your one-stop-shop for your inspection needs, including factory audits, production monitoring, pre-shipment and sorting inspections, and everything in between. This will allow you to know exactly what's happening on the ground and keep close tabs on your suppliers. Contact us today to find out how we can help you navigate current quality control challenges.
What kind of information do you want us to provide?