15/07/2020
Posted by:

HQTS

Category:

All, Supply Chain and Trade Insights
The US runs a sizable trade agreement for shrimp with Southeast Asia (SEA) and is the second largest consumer of shrimp after China. Shrimp is also one of the most consumed seafoods, accounting for around 25-30% of the entire Chinese market, with the majority imported from South Asian countries to meet rapidly growing demand in the US. North American farm and non-farm raised shrimp imports rose in January, as the Chinese market was about to close in response to the coronavirus outbreak with India, Indonesia, Ecuador, and Argentina sending more supplies than ever.
The US Shrimp Market Size
The US is one of the biggest markets for seafood and seafood-based products in the world, as the country recognizes its inherent health benefits. As a result, e-commerce and digital channels have significantly increased the seafood market with both business-to-business and business-to-customer operations.
India is the largest supplier of shrimp to the US, accounting for around out of every three pounds of shrimp imported into the US market. The global market for shrimp was valued at US$45bn in 2018 and in January 2020 the US imported 65,109 metric tons of the seafood, worth $566.2m. That's a 19% increase in volume and an 18% increase in value compared to January 2019. India sent $244.6m worth of shrimp in January 2020, an increase of 31% in volume and 33% in value, and Indonesia sent $117m worth, an increase of 24% in volume and 21% in value.
US Shrimp Imports by Country of Origin
U.S shrimp consumption provide a significant revenue share particularly as they are a high source of zinc, selenium and other antioxidants all of which help in the development of healthy cells while also boosting immunity. The US imported $22.41bn of seafood in 2019 alone, with Canada, India, Chile, China, and Indonesia as the top five suppliers. Southeast Asia currently supplies approximately 18 billion kilos of fish every year.
Consumption in Southeast Asia is projected to rise by 32% by the year 2030. Indonesia accounts for approximately 8% of global seafood production with shrimp dominating the market, followed by frozen fish then fresh fish. Vietnam accounts for about 3% of global seafood production and since 2010, the fishing industry has contributed over 10% of the country's gross domestic product. The Philippines is the 12th largest fish producer in the world, accounting for around 3% of global production while Thailand accounts for 2% of global production and is ranked as the 15th largest producer in the world.
Southeast Asia produces more than 10% of the world's volume of farmed fish, maintaining 12% of its aquaculture value, employing millions of people and supplying significant quantities globally. Fish products are important for much of Southeast Asia's diet and the population which has a high per capita consumption of fish. Fresh water is the most important source for fishing, accounting for half the total volume that is cultured in the seven Southeast Asian countries.
Further development may be limited due to the availability of land and fresh water sources plus shortage and the high prices of good quality fish. That, together with adequate energy supplies and rising costs, increases in pollution and the ensuing environmental problems all of which might cause fishing issues in the near future. But shrimp farming is likely to remain important in Southeast Asia for many years.
The Impact of Coronavirus on SEA Shrimp Exports to the US
Despite the coronavirus outbreak, the first few months of 2020 saw an increase in shrimp imports in the US. According to the National Oceanic and Atmospheric Administration, 51,564 metric tons worth $439.7m were imported in February 2020, an increase of 20% in both value and volume in February 2019.
An expected slump finally arrived in May, with only 37,961 metric tons imported during that month, which is 29% less volume and 28% less value compared to the same time last year. The volume set a seven-year low record, declining to 33,904 tons of shrimp worth $321.6 million. India struggled to export as much shrimp as usual and therefore, Indonesia became the top-importing country during May. Ecuador remained the US's third largest source of shrimp in May, although that also saw a major decline. 17 countries sent the US less shrimp in May 2020 compared to May 2019; however, shrimp prices rose in May 2020, compared to the previous year.
According to a recent Yelp survey, 23,981 restaurants are shutting down and many wholesalers initially panic-bought restaurant-ready shrimp for retail and therefore, have too much shrimp to sell as their restaurants cannot open due to COVID-19. However, according to a research report by Global Market Insights Inc the US shrimp market is projected to reach $10.2 billion by 2026.
The Southeast Asia import sources by volume in May 2020 compared to May 2019 are as follows: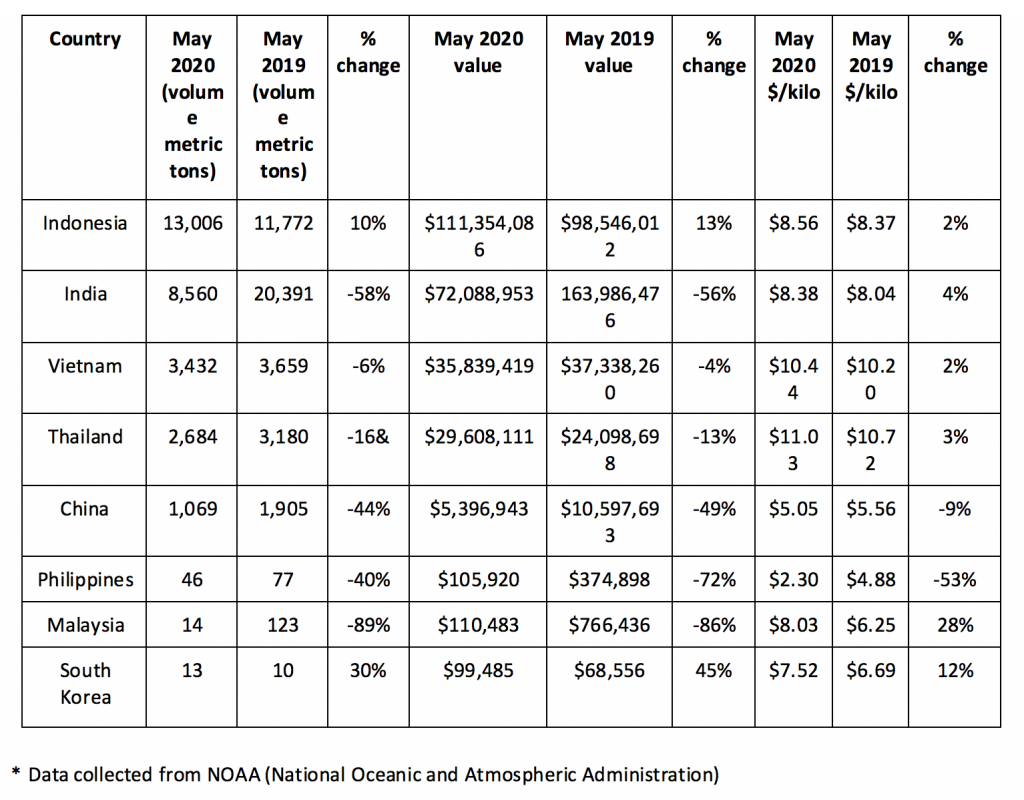 Seafood Quality Control Inspections for SEA Market
Surveys of seafood have become critically important, particularly due to the coronavirus pandemic and prolonged transportation times. Hiring a third-party inspection company is vital to ensuring good quality as it can conduct a survey of all the seafood on arrival using a detailed SOP guidance procedure. The inspector will prepare samples and the relevant tools to ensure the pre-survey is completed impeccably. Once the products arrive at the correct destination, a damage survey takes place, checking the temperature of the refrigeration storage while product quantities are counted, cartons are checked to ensure they are correctly marked and loaded properly , and photos are taken of the external boxes. The products are temperature measured, the appearance is inspected, and product information is checked against relevant materials. An electronic scale calibration is completed, gross weight inspections, product specification checks, inspect for any leakages of individual vacuum packages, inspect tare weight of individual containers, weigh the products and inspect the glaze rate, product sensory inspection are all checked, and any defects are recorded. The products are then cooked and tested, all the survey documents are prepared, which will detail any problems found with the products supported by and suggested relevant solutions.
About HQTS
With over 25 years of experience in quality assurance, HQTS is ready to help your business build strong and meaningful supplier relationships across Asia. Our worldwide service locations are ready to be your one-stop-shop for all your inspection needs including; factory audits, production monitoring, pre-shipment and sorting inspections. These steps will ensure you know exactly what's happening throughout the process. Contact us today to find out how we can help you with any quality control challenges currently happening in your industry.
https://www.businesswire.com/news/home/20190627005706/en/United-States-Shrimp-Market-Trends-Share-Size#:~:text=The%20U.S.(United%20States)%20shrimp,seafood%20market%20in%20the%20country.
Shrimp Hits Record High Levels of Consumption in United States
https://www.globenewswire.com/news-release/2020/07/07/2058460/0/en/U-S-Crustacean-Market-to-hit-10-2-billion-by-2026-Says-Global-Market-Insights-Inc.html
Fish and Seafood Exports in Southeast Asia
https://www.seafoodwatch.org/-/m/sfw/pdf/reports/s/mba_seafoodwatch_southeast_asia_shrimp_aquaculture_improvement_protocol_report.pdf