Hello from Team India!

Due to COVID-19 most countries went into complete lockdown and India has been highly affected, with a lockdown in place since 20th March 2020. Despite this, our inspectors have been highly committed to perform their necessary duties and complete any urgent inspections.
Ajinkya Nakod; had an inspection scheduled on 22nd March in Maharashtra, a region adversely affected by COVID-19. However, he continued his work despite the strict orders and shutdowns. He completed the inspection, whilst still taking all necessary precautions.
Bilge Tuna; a HQTS inspector from Turkey, reporting for Team India. Due to an urgent inspection request, Bilge took responsibility and went out to work during lockdown, ensuring she finished the job to the best of her ability. She was stopped for checks but showed her travel pass, which enabled her to travel freely and safely.
Vinesh Nair, Arun Sabrees & Sinu Vasantha; all strong pillars of our operation team in the South region of India. They were presented with a certain situation during the lockdown period; however, they completed all inspections, arranged transportation and ensured the inspection was completed within the necessary timeframe issued by the government.
Vinesh; Senior Supervisor. Vinesh took full responsibility, ensuring the inspection was successfully completed during the lockdown.
HQTS ensured all precautions were met and the necessary guidelines issued by the government were followed;
Lockdown timings
Issued travel passes
Wearing gloves and masks
Carrying hand sanitiser
We are very proud and honoured to have such a strong team. Providing timely service to all our clients, regardless of the challenging situation.
Regards,
Sakshi Gupta (HR Administrator)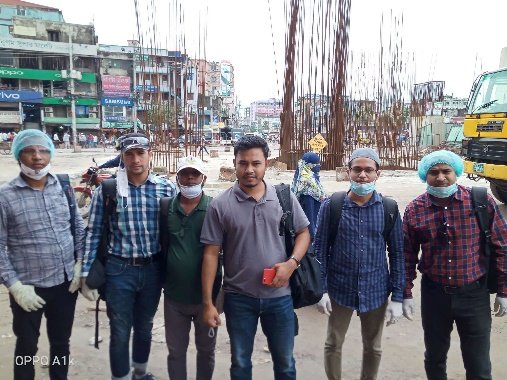 HQTS Dhaka, Bangladesh.
How HQTS continued activities throughout the midst of adversity
A few months ago, the decision for lockdown was ordered in Bangladesh and no one was allowed outside. This has been a very challenging time, as a service company, we have many responsibilities and our main goal is always, top customer service. Our mantra apparels will be inspected on June 8, 2020.
In spite of adversities, we visited the factories as much as possible to ensure full protection, finish any necessary inspections and submit reports to the necessary customers. On 19th May we reached the Narayanganj area, which has a high number of COVID-19 cases. However, our hard-working and diligent team arrived safely at the factory, ensuring our customers inspection reports were delivered correctly and on time. We returned again on 21st May for further inspections.
In the current situation, we also welcomed the arrival of a new customer 'Feberlic Company'. We worked together responsibly and overcame any fears, whilst always making sure we cared for our clients to the best of our ability.
The HQTS Bangladesh team will continue to provide the best possible customer service, regardless of the current situation.
Ha Bangladesh, Dhaka Bangladesh.