HQTS Dubai – Quality Control Company in the UAE
HQTS has more than 25+ years of expertise and is one of the leading inspection companies in UAE, covering all emirates such as Abu Dhabi, Dubai, and Fujairah, as well as the Gulf region with its services. Whether you are looking for third party inspection companies in UAE for product inspections in Dubai, or need to audit your supplier in China, HQTS can help you achieve the quality you deserve.
HQTS Regional Office in Dubai
Office Location: 

Preatoni Tower, Jumeirah Lakes Towers, 

Dubai, the United Arab Emirates

Email: inquiry@hqts.com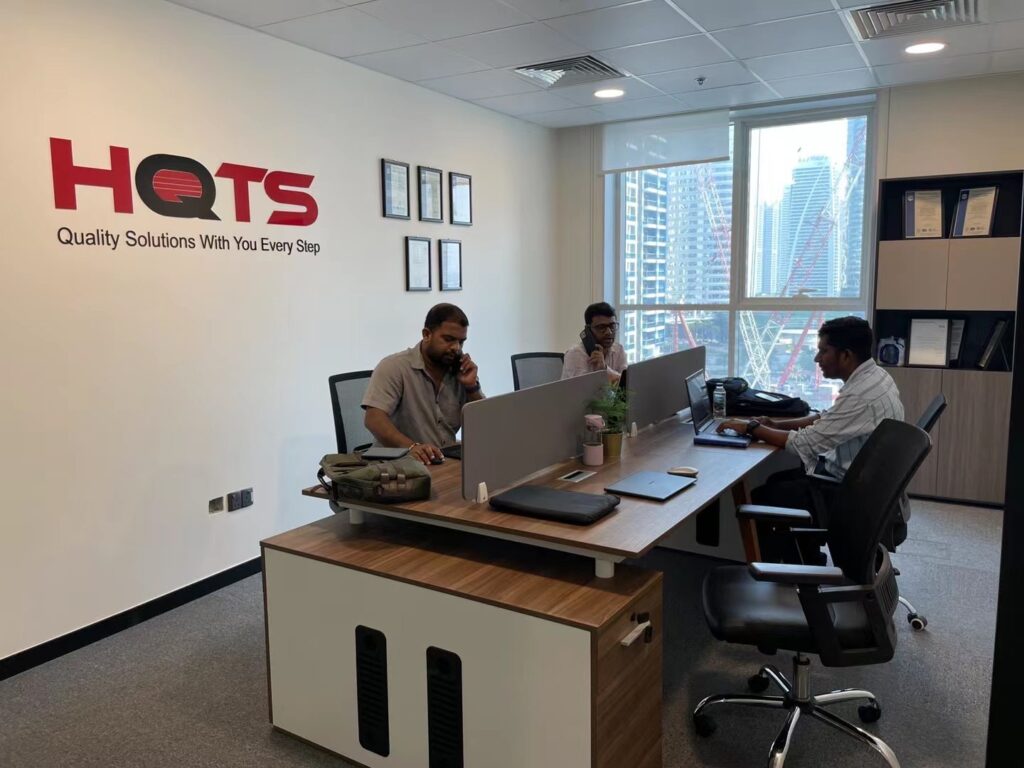 Quality Control Service in the UAE
At HQTS, we provide quality control services to help you reduce the risks of sourcing defective goods. Our services cover a range of areas, including factory/supplier controls, production monitoring, project supervision, quality inspection and more.
Third Party Inspection Company in UAE
Our inspectors will inspect the products based on criteria such as dimensions, quantity, workmanship, visual inspection, non-destructive techniques, and others – including your specifications or applicable industry standards. We offer product inspection services that cover a wide range of the production cycle.
Types of Quality Inspection Services:
Welding Inspection in UAE
Painting Inspection in UAE
Supplier and Factory Audits
Our supplier and factory audits can mitigate your risks of receiving substandard goods or dealing with an illegitimate supplier. Our audits can be arranged locally in UAE, at your supplier's factory in China, India, or elsewhere in HQTS global network. We cover major checkpoints of a supplier audit, such as:
Company Legality Information
Bank Information
Human Resource
Exportation Capability
Order Management
Product Testing in UAE
HQTS has its accredited laboratories for product testing against industry standards, such as CE Production Certification, RoHS, REACH, CPSIA, DMF, California Prop 65, in our state-of-the-art laboratories in Asia, and a network of partnering laboratories. Our quality inspection machine and testing services can help you ensure that your products conform to safety standards and applicable requirements.
Governmental and Product Certification Services in UAE
HQTS has extensive knowledge of regulations and technical standards, the company is involved in numerous product conformity assessment programmes worldwide, and can issue certificates of conformity in various countries such as Uganda PVoC, SASO Certification, Iraq CoC and more.
Other Quality Control Services in UAE
In addition to the above-mentioned services, we offer specialised training in quality management, supplier quality engineering, production monitoring and civil work quality control manpower solutions (inspectors/engineers).
Accreditations
CNAS against ISO 17020 and 17025
Member of the Testing Inspection and Certification Council
Contact HQTS today to learn more about how we can help you achieve the quality you deserve with our third party inspection services and other quality control solutions in UAE.