Quality Inspection in Abu Dhabi
HQTS, a leading third party inspection company in Abu Dhabi and beyond, offering quality control services covering all Emirates in the United Arab Emirates. Whether it's quality inspections in Dubai, Fujairah, Ras al Khaimah or Sharjah – we are here for you.
From its wealth of petroleum and natural gas to its thriving infrastructure, construction, tourism, and trading sectors, businesses in Abu Dhabi source products from textiles, food to raw materials and machinery, often from every corner of the world.
HQTS has provided quality inspection services for clients in Abu Dhabi for multiple years. The company assists with quality inspections across many industry verticals and product categories, ranging from quality control for tools, machinery, steel and textiles and apparel to children's toys.
Quality Control in Abu Dhabi
For over a decade, HQTS has been offering comprehensive quality control inspections to over 50,000 clients from 80+ countries. Our unparalleled expertise and know-how have enabled us to remain a leader in the industry for many years.
HQTS have internationally-recognised testing laboratories in several manufacturing regions, accredited by the China National Accreditation Service for Conformity Assessment (CNAS) for inspections (ISO17020:2012) and testing (ISO17025:2005).
The company have a local office in Jumeirah Lakes Towers, Dubai and provide a range of quality inspection services, including pre production inspections, PSI inspections, container loading/unloading and supervision in Abu Dhabi.
In addition to our quality control inspection services, we also offer other specialised services such as factory audits, consultancy and training sessions, governmental certifications, and various additional offerings.
Office location: Preatoni Tower, Jumeirah Lakes Towers, Dubai, the United Arab Emirates
Email: inquiry@hqts.com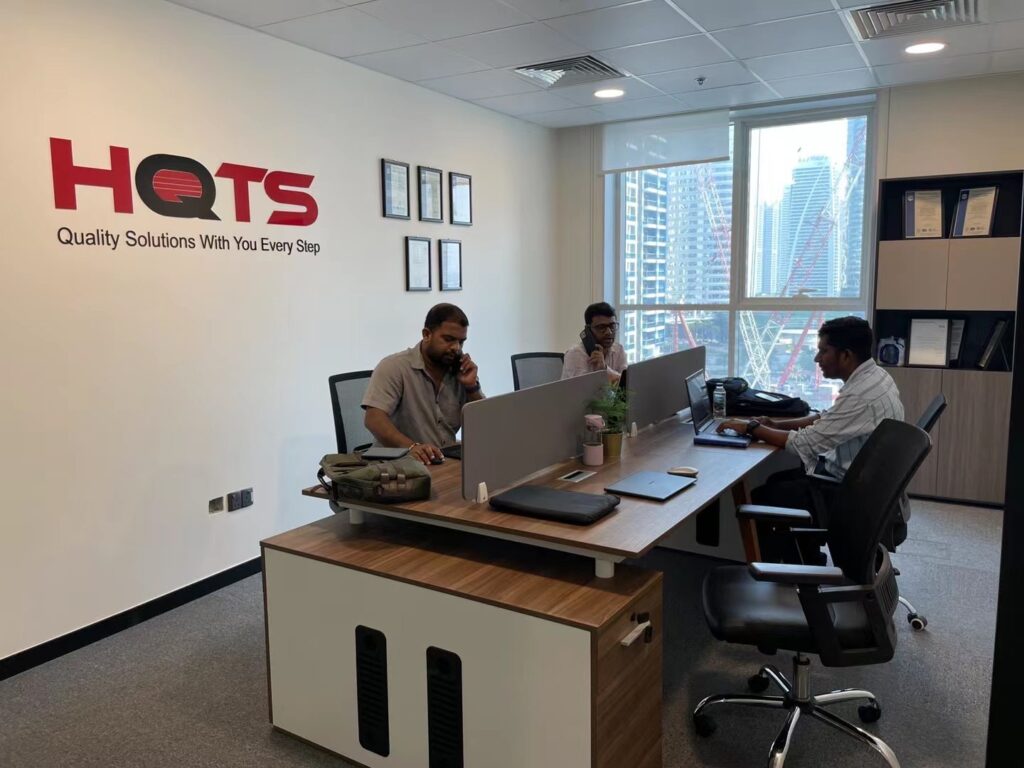 Quality Inspections in Abu Dhabi
We are Abu Dhabi's premier third party inspection company and offer product inspections at each phase of the manufacturing production. Our services will give you peace of mind knowing that your supply chain is reliable and help you reduce risks associated with substandard goods.
Audits in Abu Dhabi
Our auditing services cover a wide range, from authenticating your suppliers' authenticity in an extensive supplier audit to checking their ESG compatibility for sustainability goals and providing a thorough evaluation of their systems, products, processes, and personnel via factory audits.
We perform the following types of audits in the United Arab Emirates:
Accreditations
Our accreditations include the following:
CNAS – ISO/IEC 17020:2012, ISO/IEC 17025:2005.

accredited Third-Party Inspection Company for Power Plants by Bangladesh Power Development Board.

Authorised by the Petroleum Authority of Uganda for Conformity Assessment of Materials and Equipment for Oil and Gas.

Authorised to Issue Iraq Certificates of Conformity (CoC).

Appointed by the UNBS to Issue Uganda Pre-Export Verification of Conformity (PVoC).

Authorised by the Uzbekistan Government to Provide Uzbekistan Pre-shipment Inspection (PSI) Services.