HQTS is Your Third Party Quality Inspection Services Provider in Dubai
HQTS is a renowned third party quality inspection Dubai company with an experienced team of professionals and coverage in all Emirates across the United Arab Emirates. From Abu Dhabi to Fujairah, Ras al Khaimah, and Sharjah or anywhere in the world – we are here for you.
The United Arab Emirates is one of the fastest-growing economies in the Middle East. The country is known for its oil and natural gas reserves, booming infrastructure and construction, tourism, and trading industries.
For over a decade, HQTS has conducted quality control checks on intricate products, from tools, machinery, and steel quality control to textiles quality inspection, furniture, and children's toys – many of which are sourced from factories thousands of miles away in India, China, Vietnam, and other parts of the world.
Our Quality Control Inspections in Dubai
HQTS is a company with over a decade of experiences conducting quality control inspections on behalf of over 50,000 clients in 80+ countries globally. The company have internationally-recognised testing laboratories in key manufacturing regions and are accredited by multiple international regulatory bodies and standards, including ISO17020:2012 for inspections and ISO17025:2005 for testing by the China National Accreditation Service for Conformity Assessment (CNAS).
Our Dubai, United Arab Emirates office provides various quality control services to assist local and international businesses. These include quality inspections such as pre-shipment inspections in Dubai, piece-by-piece inspections, container loading and unloading. We also provide other services including, factory audits, consultancy and training, governmental certifications, and various other offerings. Whether you need a China quality inspection or inline quality inspection – we can help you.
Office Location: Preatoni Tower, Jumeirah Lakes Towers, Dubai, the United Arab Emirates
Email: inquiry@hqts.com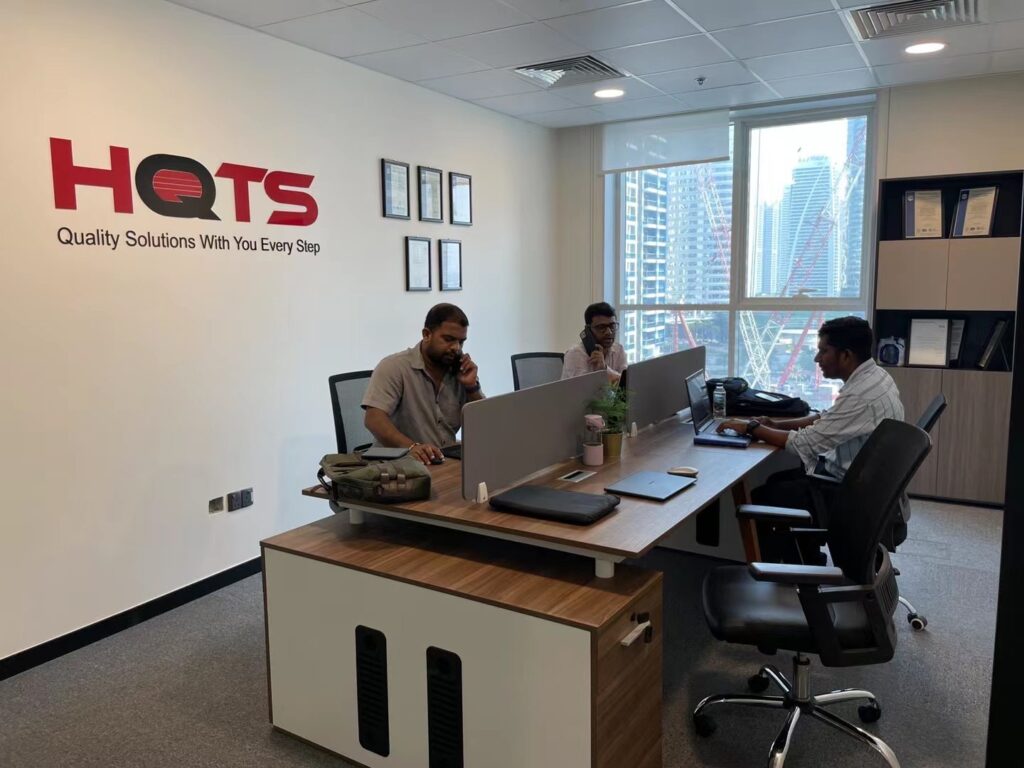 Quality Inspections in Dubai
As the UAE's top-tier third party quality assurance inspection company, we provide product inspections during every production stage. Our services will help to ensure that your supply chain is reliable and diminish risks associated with subpar products.
Dubai Factory Audits and Supplier Audits
Our auditing team can evaluate the strength of your supply chain and check that each partner complies with your manufacturing requirements, from design to product delivery.
We offer auditing services ranging from validating a supplier's authenticity through a thorough audit, inspecting their ESG alignment for sustainability purposes, to performing an in-depth assessment of their systems, products, processes and personnel via a factory inspection.
We perform the following types of audits in the United Arab Emirates:
Other Quality Control Services in Dubai
In addition to the services mentioned above, we can help you with:
Accreditations
Our accreditations include the following:
CNAS – ISO/IEC 17020:2012, ISO/IEC 17025:2005.

accredited Third-Party Inspection Company for Power Plants by Bangladesh Power Development Board.

Authorised by the Petroleum Authority of Uganda for Conformity Assessment of Materials and Equipment for Oil and Gas.

Authorised to Issue Iraq Certificates of Conformity (CoC).

Appointed by the UNBS to Issue Uganda Pre-Export Verification of Conformity (PVoC).

Authorised by the Uzbekistan Government to Provide Uzbekistan Pre-shipment Inspection (PSI) Services.