How to Source clothing from China: Tips For Finding The Right Manufacturer
China is one of the largest sources of textile and apparel clothing in the world. In 2019 China exported 151.6 billion USD worth of textiles and apparel, with clothing accumulating 70% of this. China also has a 31.6% share of the global market, in which International fashion brands such as Nike and Gap rely on to provide their import products. However, many countries in Southeast Asia and Europe are entering the market, China still holds its reputation for the quick delivery and quality of goods.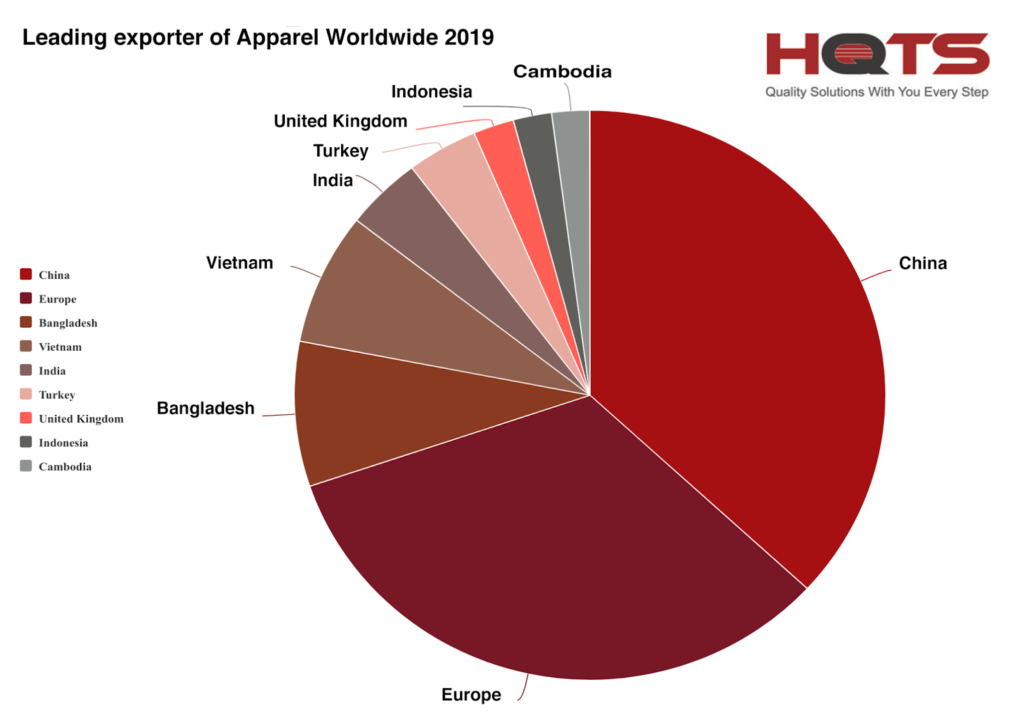 Although China has many choices for sourcing apparel goods, it is essential to find the correct ones. Potential risks may occur without careful consideration to which manufacturer to use, such as low-quality products that impact your brand's reputation and supply chain. 
This article aims to show the value of sourcing apparel from China and how to find the best Chinese clothing manufacturers that align with your organization. 
Why you should Source Apparel from China
There are several reasons why using Chinese manufacturers to source apparel can be beneficial for your organization. These include: 
Lower labour costs 
Generating apparel needs a large amount of labour to achieve efficient amounts of goods. Compared to Western countries, China has a much higher capacity for said labour at a much lower cost, with the usual rate of said labour being 660 USD monthly. Because of this low labour cost, organizations can manage their overhead expenditure and allow for long term growth. 
State of the art manufacturing processes and production skillsets
Many organizations require a large number of garments in short timeframes. Because of this, China has invested heavily in processes and technology to meet this demand. It allows organizations to scale at an accelerated pace.
Efficient supply chain capabilities
China is one of the most developed countries in terms of supply chain capabilities. Chinese manufacturers offer an efficient and streamlined logistical experience to deliver goods in a timely fashion. Many Chinese manufacturers also offer full-service packages to further assist organization's in reducing supply chain costs. 
Experience with product manufacturing. 
China also has a deep history in garment manufacturing, with expert knowledge in creating apparel in various styles and materials to facilitate your organization's design requirements. 
How many clothes manufacturers are there in china?
Within China, there are around 44 thousand companies that deal in textile and apparel manufacturing. To the point which it would be impossible to list them within this article. However, although there are thousands, it is important to stay vigilant whilst searching to ensure they are legitimate. As well as this, it is key to understand the speciality of a manufacturer to get the product that aligns with your organizations standards. 
Are Chinese garments good quality?
The quality of garments is dependent on the type of manufacturer you decide to work with. If the manufacturer is professional and has a good service record, the goods shall be higher than a less legitimate and professional one. This is another reason why it is essential to be careful when deciding to work with a manufacturer. 
Finding the ideal Chinese Clothing Manufacturer
Although there are many Chinese garment manufacturers, it can be difficult to know where to find the ideal one that suits your business. There are several channels to do this, including:
Using 3rd parties agencies to source manufacturers. 
Third-party organizations are a great way to use their experience within the Chinese manufacturing marketplace to source suppliers if your organization is not experienced in this area. This can potentially save time and the potential risk of working with a less than reputable supplier. 
Try Online B2B Marketplace in China
There are several marketplaces within China that manufacturers use as a shopfront for their services. The most popular services are: 
These platforms allow you to create direct communications with manufacturers to allow for smooth communication. However, it is important to be clear when messaging on this platform as manufacturers may be messaged a lot; therefore, short messages may be ignored. 
Find clothing manufacturers from fashion exhibitions in China.
China hosts several fashion exhibitions and trade shows all over the country. These are fantastic opportunities to see products and make real connections with manufacturers physically. Due to the recent COVID-19 situation, these have not been as prevalent; however, once restrictions ease, they will come back into popularity. 
Using B2B social channels like Linkedin. 
Linkedin is a popular social network with a focus on business and professional means. Due to this, many manufacturers use this platform to let potential leads keep up to date with changes with them. This allows you to research manufacturers and reach out to them via the platform to build a business relationship. 
Tips for sourcing apparel manufacturers in China 
Sourcing manufacturers that fit your organization's requirements can be a challenging task at first. Below are some tips which can help you traverse through a large number of options available:
Find wholesale clothing manufacturers according to your business size
When finding a manufacturer, sometimes big is not better. Many of the larger apparel suppliers have a minimum order requirement and are usually dealing with large scale orders from major clients; therefore do not have time to assist small businesses
If you are a smaller organization, it is recommended to find smaller or medium-sized manufacturers who may be more inclined to give smaller minimum orders and donate more time to your order's specifications. 
Choose the clothing manufacturers who have a formal manufacturing system
There are several certifications that give a manufacturer in china more legitimacy. For example, a certificate of excellent manufacturing processes that is named ISO 9001:2008. Suppliers who have achieved this will have a more professional and high-quality product than those without. 
Therefore, it is key to be on the lookout for a manufacturer's certifications when selecting them to collaborate with. 
Divide clothing manufacturers to best use their specialities 
If you have experience developing apparel supply chains with China, deepening the control of quality may be the next step. This can be done by dividing your required goods by manufacturers specialising in certain goods, such as knitwear or children's clothing. 
This allows for the harnessing of the expertise of each manufacturer to get the most effective products. 
Ensuring quality from your sourced Chinese Garments
Although choosing a manufacturer is a key task in creating the goods you require, ensuring the quality of said garments is also as important. Without it, goods may be of unacceptable quality. If the goods are of bad quality, the reputation of your brand will suffer, as well as these goods may not be able to pass the strict regulations in place for the importation of goods. To support this, quality control organizations based in China can ensure goods have been correctly made and are up to regulatory standards. 
We at HQTS provide these third-party inspection services. With over 25 years of experience within China and greater Asia, we support our clients with assistance in: 
Inspections
Assisting in the inspection of goods before they are shipped to their respective countries, ensuring that they are up to the standards set by the organization and the destinated countries import regulations. This includes inspections throughout the entire production process, from production monitoring to pre-shipment inspections. 
Audits
As well as inspections of goods, we provide factory audits to ensure the chosen manufacturers are conducting best practices. This can give peace of mind and ensure that goods will be created at the level which has been pre-arranged. 
Testing
With our state of the art testing labs, we provide comprehensive testing of manufacturers goods. During tests, we can give clarity to the fabric composition, colour fastness. AZO dyes are used within production and many more. Our experienced staff can ensure that your products are up to regulation, mitigating the chance of error and silos within the supply chain. 
Click here to learn more about our garment inspection processes and how to contact us.