08/09/2020
Posted by:

HQTS

Category:

Uncategorized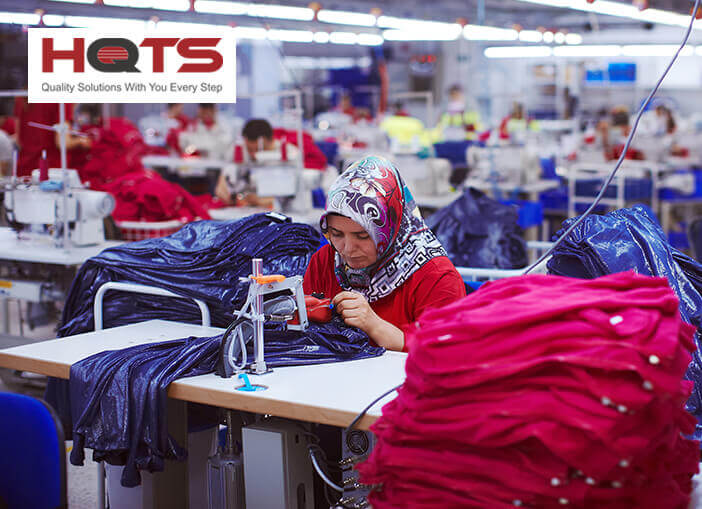 Apparel quality control is the tests, checks and inspections that are carried out to ensure clothing products are made with the best standards and according to the intended design and correct specifications.
Clothes are an important part of everyday life. We all wear them and they form part of our identity and individualism. When it comes to the quality of the items we choose for our wardrobes, design is as important as fit and comfort. Therefore, any company involved with bringing fashion products to market needs to make sure they're doing everything they can to meet certain standards.
Why apparel quality control is important
Garment quality control should be implemented right from the beginning of the apparel-making process. From the initial sourcing of raw materials up to point of sale, it's important that clothes are made with the best procedures in place at each stage of production. After all, if one part of a product isn't up to scratch, the whole thing could unravel and your business reputation will also be damaged in the eyes of the customer.
Guidelines for judging the quality of a garment
Some of the main considerations when judging the quality of a piece of clothing could be differing shades of colors, fabric defects, quality of fibres, exposed notches, loose threads, pulled yarn, holes, bad stitching or stains, to name a few.
Garments need to look right with the correct formation, feel and fall. They should have the right physical properties and color fastness while their finishing properties and final presentation should also be in order.
Product testing during inspection makes sense. In addition to looking and feeling good on the wearer, clothes naturally need to fit right as well as being functional and durable. HQTS has a team of professional testing engineers who provide one-stop textile testing services in accordance with ASTM, AATCC, ISO, EN, JIS, GB as well as others. Our internationally recognized testing services help you to improve the quality of your products and meet specific regulations.
How to determine the quality of a garment
Having a spec sheet for your product is definitely a good idea. You need to make sure all the different parts are the right dimensions, fabrics and made with the correct materials. That can be especially tough if you're importing and managing your supply chain from a distance. So having clear guidelines will stand you in good stead.
The nature fabrics and textiles means that managing the size and fit of garments can be a tough challenge. So how can you make sure your products are manufactured to your exact specifications? A tech pack or spec sheet goes a long way in ensuring everything is produced as it needs to be.
The effects of bad quality management for apparel
Not implementing a good approach to good quality management when it comes to apparel can be costly for a business or brand. Waste of materials is not only expensive but also damaging to the environment and everyone is a winner with a greater focus on what's being used and for what to improve efficiency.
Secondly, working with different parties in your supply chain means valuable working relationships are being built. The last thing you want to do is upset potential business relationships because your procedures aren't as smooth as they should be.
Finally, you should keep your final buyer in mind at every stage of the process. Not making sure your products are of the best quality and in the best condition is unreliable and customers won't stick with you if you let them down once with a defective product due to carelessness with what's being made.
The benefits of good garment quality standards
Quality fashion products need to last. You can always tell a quality product when you put it on and that's the result of how it's been produced from start to finish. The result of a good quality garment will be returning customers and buyers who are reassured your supply is top notch. Having them come back season after season will be the result of good quality management.
About HQTS
HQTS has the right systems, processes and procedures to help you meet your requirements and deliver quality products in a timely manner. Our quality control services are delivered through our professional and technical staff located in major production hubs throughout Asia. We work hard to identify quality concerns prior to distribution to mitigate delays, unexpected costs and risk to your consumers and brand. Avoid product recalls by getting in touch to hear about how we can help you minimize the risk and hassle of having your products recalled.