The garment industry is a multi-billion dollar industry that has been around for centuries. But while the revenue in the market is expected to increase from 1.710 billion USD in 2022 to 1.950 billion USD by 2026, the poor quality control in garment industry has long been contributed to its bad reputation of high defect rates and low quality goods.
These issues can be extremely costly – not only financially – but also for the environment. Fortunately, national regulatory quality certification programs, including the ISO 9000 series, can help companies maintain quality in the garment and apparel industry. This article will cover the fundamental standards and procedures you need to know regarding quality control in apparel industry.
What Is Quality in Apparel Industry [Guidelines for Judging Quality of Garments]
Quality is a relatively broad concept. Consequently, it can be challenging for any person to objectively judge whether or not a garment is of high quality. But luckily, quality checking in garment industry follows a set of common industry standards for quality and how to assess quality in the garment industry.
Some of the primary considerations when judging the quality of a piece of clothing include, but are not limited to:
Differing shades of colors

Obvious

fabric defects

The quality of fibers

Exposed notches

Loose threads and pulled yarn

Holes, bad stitching, or stains
Aside from the above mentioned points, garments must look right and display the correct formation. They should have suitable physical properties, color fastness, and final presentation. The finishing properties of garments should also be in order.
The Importance of Quality Control in Apparel Industry
In the apparel industry, quality control in garment industry and apparel is a crucial factor that helps to maintain consistency and quality and ensure that all the garments meet a specific set of standards and specifications – and not to forget regulations.
For those companies looking to export their goods to international markets, there are usually several legal and non-legal requirements that you need to follow to comply, including but not limited to: the use of chemicals (REACH), specify the material content, quality, special requirements for children's wear and apparel labeling requirements.
There are many regulations variations that are subject to change depending on which region you are exporting to. It is always essential to consult with an expert, like us at HQTS, who knows about international regulations. In some cases, it can be necessary to perform apparel testing to ensure the merchandise does not contain any prohibited materials and is in accordance with ASTM, AATCC, ISO, EN, JIS, GB, and other standards.
Check here a Pre-Shipment Inspection Sample Report by HQTS:
How to Check the Quality of a Garment?
There are several garment quality control procedures, and optimally these should be taken at various stages of the production, including pre-production level, during- and post-production levels, to check the quality of a garment.
To start off, having a control form for your product is a good starting point. You must ensure all the different parts are of the proper dimensions and made with the correct materials. That can be especially tough if you're importing and managing your supply chain from a distance. So having clear guidelines will stand you in good stead.
The nature of fabrics and textiles means that managing the size and fit of garments can be a tough challenge – and naturally, this is a focus point in the quality inspection. Generally speaking, an inspector would take a sample of a production lot, which is picked according to the apparel's Acceptable Quality Limits (AQL) specifications or based on customer requirements. The samples are randomly inspected for defects according to these standards and procedures. The following are some principles of quality control in garment industry.
1. Apparel Quality Control in Pre-production
Pre-production apparel quality control is conducted before the production starts. It covers the inspection of fabric and garment samples before they are cut into larger pieces or sewed together. It includes checking if the fabric meets the required standards for:
Colorfastness properties

Texture

Technical properties

Durability properties

Detect any loose threads or holes on seams
2. Apparel Quality Control During Production
Inspection during production is integral to ensuring that garments are produced to meet customer expectations and specifications. These production garment inspections are typically done when around 15-20% of the merchandise has been completed, and they can be done in different ways, including:
Visual inspection (e.g., assessing cutting, assembling parts, sewing).

Measurement.

Destructive testing.
Quality control of finished garments is an inspection before the merchendise are shipped to the customer and is done when at least 80% of the order has been packed for shipping. This process helps to detect any defects and reduces the risk of complaints from customers.
The inspection process typically includes: visually inspecting the garment for any flaws visible to the human eye finished product, checking the labeling, and counting the items in the production lot.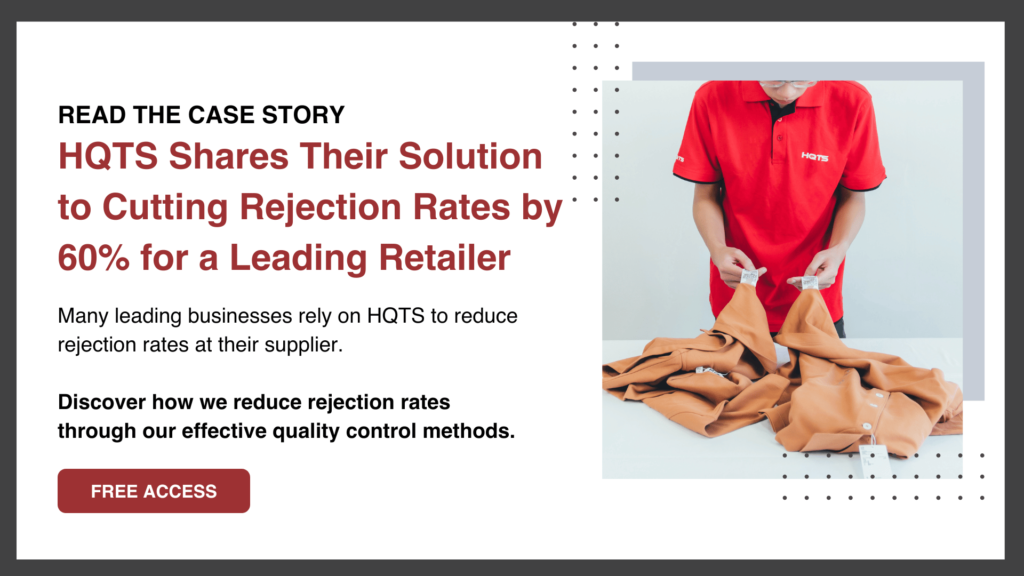 What Are the Effects of Bad Quality Management for Apparel?
Poor quality management can lead to increased cost of production, as well as increased cost of raw materials due to poor planning and forecasting. After all, waste of materials is expensive and damaging to the environment, and everyone's a winner with a greater focus on what is being used and for what to improve efficiency.
Secondly, working with different parties in your supply chain means building valuable working relationships. The last thing you want to do is upset potential business relationships because your procedures aren't as smooth as they should be.
Finally, you should keep your final buyer in mind at every process stage. Not making sure your products are of the best quality and in the best condition is unreliable, and customers won't stick with you if you let them down once with a defective product due to carelessness with what's being made.
What Are the Benefits of Good Garment Quality Standards in Textile Industry?
There are many benefits to having a set of quality standards in textile industry. Below are just a few examples of the key advantages:
Ensure the products meet the minimum acceptable level of quality for their garments.

Ensuring garments will be of good quality and last for a long time.

Protecting consumers from poor products.

Reduce material waste and defect rates.

Improve the operational efficiency.

Avoid expensive lawsuits and other penalties.

Higher customer satisfaction.
What Are Standard Tests for Apparel?
When it comes to apparel, there are a few textile testing methods that are effective to determine the quality of the fabric, including:
Physical Tests for Apparel
Physical tests for apparel are conducted on the fabric to check its durability and quality. The tests generally include stretch tests (testing the elastic bands or straps), pull tests (pulling the zippers or buttons), and fatigue tests (testing the usage/tear strength). 
Fabric Tests for Apparel
Fabric tests for apparel checks the quality of the fabric. It is done by running a fabric sample through a series of tests and comparing the results with predetermined standards. It usually includes: checking the stitching over one inch, the composition, and fabric grams per square meter.
Other Apparel Tests for Regulatory Compliance
The apparel industry has been affected by several regulatory changes, which often require manufacturers that want to export their goods to conduct a set of tests, including chemical testing of items such as:
Banned Azo Colorants

and Ozone Depleting Chemicals

Heavy Metal, Pesticide Residues, and Fungicides.

Flame retardants.

OPEO: NPEO, CP, NP.
Conclusion: Quality Control in Garment Industry: Standards and Procedures
Quality control in the garment industry is crucial because it helps to maintain consistency and quality and ensure that all garments meet a specific set of standards, specifications, and regulations. The actual factories are often thousands of miles away from the buyer, making it difficult to quality control the garments before they're shipped – and that's where third party quality inspectors can come in handy.
At HQTS, we provide quality apparel services against most international standards, including visual inspections, AQL inspections, measurements, and testing. Our services can be deployed at any stage of the supply chain. Book your garment inspection service today!