Quality control is essential in the electronics industry, regardless of whether you're a trading company importing electronic components or producing your electronic final products.
In fact, quality inspections and testing electronics components are important elements in the manufacturing process. Not only do they guarantee the parts meet specific performance, reliability, and safety requirements. But these methods can also detect potential defects or issues with the parts before they're installed in a final end product.
In this article, you'll learn about the different types of quality inspections and testing methods for electronic components and what steps you can take to prevent defects the next time you're sourcing them.
Introduction to Quality Control in Electronics Components
Electronic components are used in a multitude of products, from smartphones and automobiles to home appliances and industrial machinery.
Quality control is important in the electronics industry. It helps to ensure the components you source meet your specifications and performance standards and are free from defects that may cause problems in the final product's safety and performance.
Ultimately, it helps to detect and correct issues with the electronic components early on – before they affect the end product. On top of that, there are many regulations that electronic components – or the product they may be incorporated into – fall under, including the RoHS Directive, Low Voltage Directive, CE marking, technical documentation, and more. 
Where to Find Electronic Components Manufacturers?
There are several major electronic components manufacturing hubs worldwide, including Mainland China, Taiwan, and India.
China Electronic Components Manufacturers
China is the largest manufacturer of electronic components, particularly for consumer electronics such as smartphones and laptops. Many manufacturers and china electronic components suppliers are situated in the industrial clusters around Shenzhen and can easily be found via e-marketplaces and in trade shows.
Electronic Components Manufacturer in Taiwan
Taiwan has long been a leader in the manufacture of electronic components. The electronic components in Taiwan are primarily centred around the computer and semiconductor industries.
Japanese Manufacturer Electronic Components
Japan is a leader in advanced technology and high-tech electronic products. The country is a central manufacturing hub for electronic components, particularly within the automotive and industrial sectors.
Electronic Components Manufacturer in India
India is an emerging, but fast-growing electronics manufacturing industry. In fact, the its production rose by $4 billion in just four years, from 2014 to 2018. The manufacturers are concentrated in the areas of consumer electronics, telecommunications, and automotive components.  They're particularly situated in the industrial clusters around Bengaluru, Chennai, Hyderabad, Noida, New Delhi and Pune. It's increasingly becoming easier to do online purchase of electronic components in India in the wide supply of electronic components distributors in India.
What Are the Common Quality Control Methods in Electronics Methods?
There are many quality control methods and techniques, and the type that may work best for you depends on the specific application and industry. However, the two primary methods include tests related to evaluating the performance and functionality electronic testing components and conducting quality inspections to examine the modules for defects. We will delve deeper into these methods in the following section.
What Are Electronic Components Quality Inspections?
Quality inspections help to prevent that the electronic components are defective and ensure that they meet the required specifications. There are many types of quality inspections used in electronic components, including visual inspections, quantity, and packaging/labeling check. Below, we'll go briefly into each one of them.
Image: Sample inspection report of a main board.
Visual Inspections on Electronic Components
These inspections are usually performed manually – or by using a magnifying glass or microscope – and are a way to identify any obvious defects that are seen by the naked eye, such as cracks, missing pieces or chips.
The inspections can be done at various stages in the manufacturing process, from pre-production quality inspections, where the inspector checks the raw materials, to a pre-shipment inspection on a sample or every piece of product.
Counting the Quantity of Products
Another key aspect of quality inspections is hiring a third-party testing, inspection and certification company to count the quantity of electronic modules to ensure that there are no discrepancies between the parts ordered – and the number of parts you receive. But it can also be extended so that the inspector check the final packaging of the inspected internal components and seal the package, to prevent that the manufacturer or supplier replace the inspected parts with any subpar components.
Inspection of Documentation, Shipping Marks, Packaging and Labelling
When you're sourcing electronics goods, it's important to verify that the electronic components have been properly packaged, and labelled and include the correct shipping marks. This helps prevent damage during transit and ensures compliance with labelling and packaging regulations, facilitating a smooth passage through customs.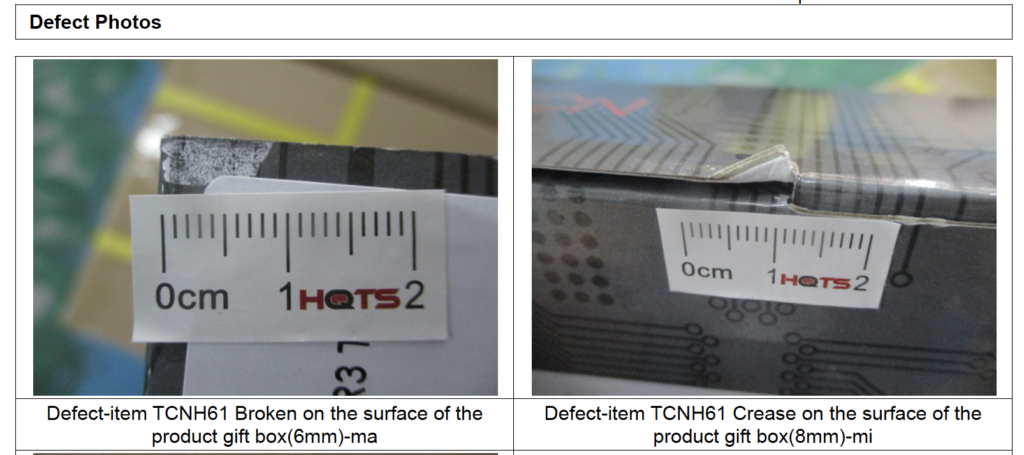 Image: Quality inspection on the packaging of a main board.
What Are Testing Electronics Components?
There is a multitude of testing in the electronics industry. But two of the common ones for importers include: functional and performance testing. Let's take a closer look at them.
Functional Testing of Electronic Components
Functional testing, or type testing, is a method to test that the parts function properly and meet the defined specifications. These inspections stimulate the actual conditions while measuring the component's performance.

Image: Main board functional test.
Performance Testing of Electronic Components
A performance test involves testing of electronics components to check their performance under different conditions, including different temperatures and voltages. These tests can help identify potential issues that may not become apparent during standard functional testing.
Conclusion: Electronic Component Testing and Quality Inspections (Buyers Guide)
This article outlined the main quality control methods used in the electronics industry, including quality inspections and testing methods. It is essential to note that the method that may work best for you depends on the specific application and industry. 
At HQTS, we've helped businesses in the electronics industry for years with our quality control services for the electronics industry. We have a range of services, from pre-shipment inspections and functional testing to laboratory testing.
Oftentimes, the manufacturing hubs are located thousands of miles away from you – backed by our strong global network, we can cover all major electronics hubs. Contact us today if you need assistance with quality control services for your electronics business.